The INTEMPORAL Diamonds is an automatic watch with discrete diamond accents. It is wound by the LS0003 calibre with sapphire glass rotor. The surfaces of the movement parts feature intricate bicolour decor.
Variants
INTEMPORAL Diamonds
stainless steel
LS0003-005-01-030404-05
stainless steel
LS0003-005-01-060404-05D
with diamond bezel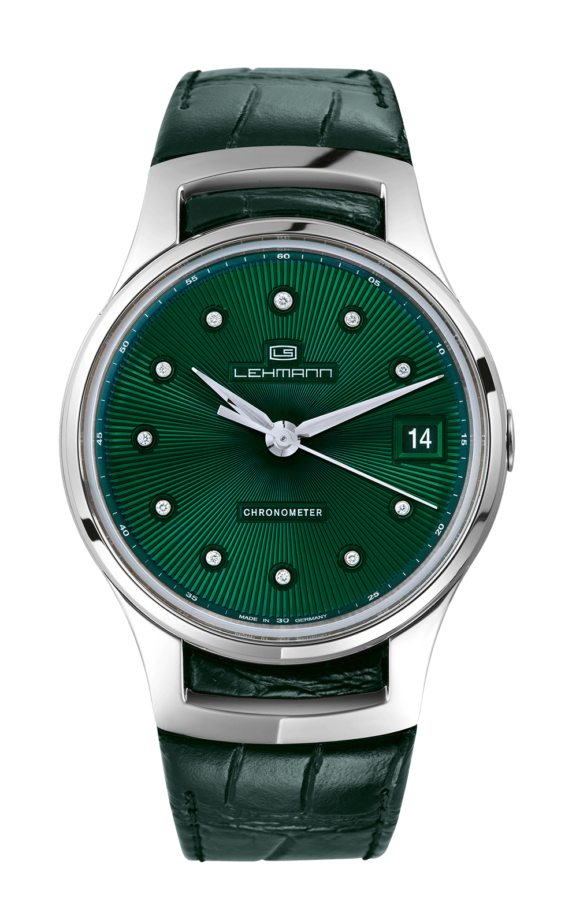 stainless steel
LS0003-005-01-050404-05
stainless steel
LS0003-005-01-020104-05
stainless steel
LS0003-005-01-040104-05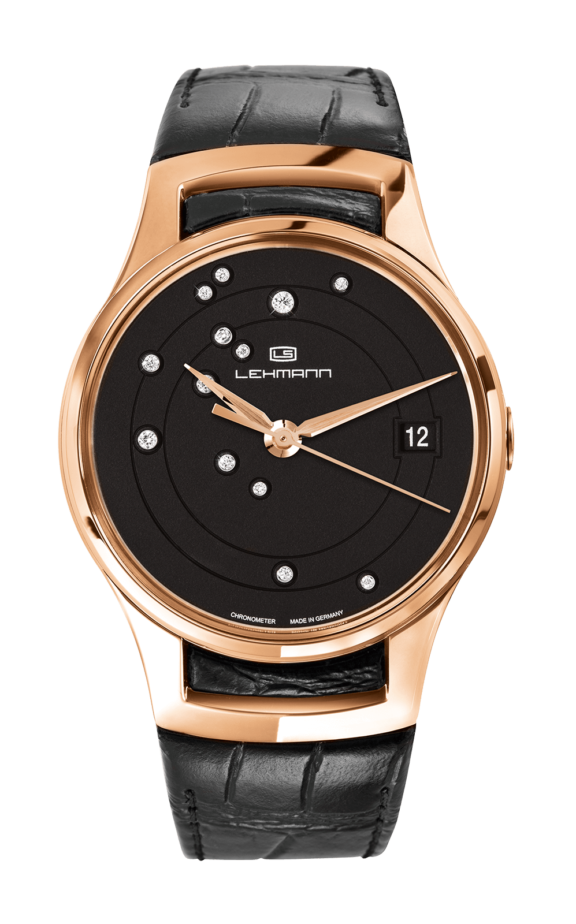 18 ct red gold
LS0003-005-02-040104-05
The INTEMPORAL Diamonds models are only available in the 38 mm diameter version. There are two styles, both with diamond decoration.
The bridges of the movement are finely engraved and have been machined, diamond-cut, polished and extensively coated in multiple work steps. The result is the gold stripe decoration on the bridges. The sapphire glass rotor with oscillating weight engraved and with the Lehmann logo is another feature which is available on hardly any other watch on the market and which effectively accentuates the bridges.
There are two dial variants in this model. The coloured variant has a dial with three-dimensional sunray engraving. The colours are elegant shades of red, blue and green. The indices are flawless diamonds in white gold settings. There are also variants in muted colours of black and cream. The watch dials are accented with randomly scattered diamonds.
In general, the INTEMPORAL Diamonds come without diamond bezels. The variants with a white or red diamond-set bezel can be produced at any time at the request of the customer.
In general, any strap of the right size can be fitted on the INTEMPORAL Diamonds variants. For each watch there is a standard version, which can be replaced at any time. This model is supplied with a colour-matched alligator strap.
We will also endeavour to fulfil special requirements by having straps specially produced.
A specially-shaped insert, made here in-house from a strong, light material, is sewn into the strap. The strap thus sits snugly into the case lugs. This insert comes in two shapes, which determine the way the strap sits on the wrist.
One has an angle of 5°, which aligns the strap with the case lug to enable the perfect fit of the watch. The other has a steeper angle of 30°, which permits the optimal fit for narrower wrists.
The INTEMPORAL Diamonds models are supplied with a superb pin buckle produced in-house. Customers can also opt for a delicate folding clasp, which is available in two sizes.
All INTEMPORAL models are supplied in a very beautiful walnut box made in the Black Forest.