Parts manufacture – precision manufacture
For many years the house of Lehmann Präzision has produced its own turning and milling machinery designed specifically for the watch and clockmaking industry.
The bottom plates, bridges and other small parts for the high quality Lehmann timepieces are produced in-house on such machinery. However, we also produce the cases, dials and clasps ourselves and these are integral to the high vertical range of manufacture and the convincing quality of the INTEMPORAL models.
Milling of bridges,
cocks and bottom plates
A complex product like a watch can only be made with high-precision parts which enable its mechanism to fit in such a small space. All blanks – bridges, cocks and bottom plates are turned, milled, ground and polished in-house. Particularly noteworthy is the high-precision engraving on the movements or on the dials. Most of the manufactured parts are extensively coated in the electroplating shop that was set up in 2019. In some calibres the bridges feature bicolour decoration with gold and rhodium-coating.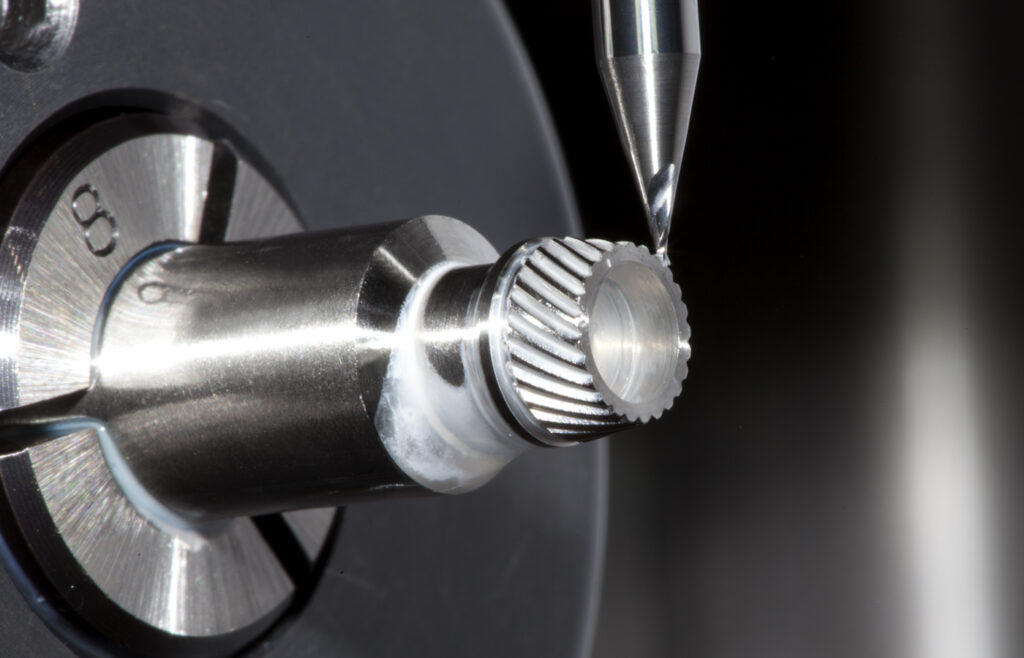 We manufacture our integrated crown system with retractable crown, which was designed in-house. Turned parts with a perfect surface finish are of immense importance for the function and the appearance of the watch movement.
"Watch parts are manufactured to a precision tolerance of plus or minus one hundredth of a mm. Everything with a tolerance is more precise."
Markus Lehmann
Finishing and measuring
Particular consideration is given to many aspects of the movement parts. They must all be produced accurately to small tolerances and they need a perfect surface finish. Firstly, this is important so as not to jeopardise the functionality, secondly, the movement must be visually appealing through the sapphire glass back. To achieve this, for instance, bridges and bottom plates are also sandblasted.
All parts are measured in great detail prior to each operating step. This guarantees that only absolutely precise parts are further processed and subsequently fitted.
The polishing produces a particularly high-quality surface finish. Various small machines developed in-house help to perfect the parts. We use a range of techniques including satinising and grinding. Particularly important are a steady hand and good eyesight.